Here's what our clients say


"I can't say enough about Michael. My son has autism and struggles to stay focused, but with Michael he didn't want his 4 hr lesson to end. Michael is knowledgeable, patient and clearly loves his job:
I highly recommend Michael."
- Lisa B.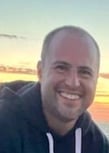 "Michael is a true professional! I've been fishing on and off my entire life and thought I'd give a lesson a shot to try and get my skills to the next level. I met with Michael in Long Beach and he intro'd me to catching live smelt with a dip net (included in lesson), and then we hit the beach for roughly four hours. Pretty non stop action most of the time we were there (3 halibut, 2 needlefish, several sand bass). He re-enforced several concepts I was familiar with as well as introduced me to lots that was new.

Truly appreciated my time fishing with Michael and look forward to meeting up again in the future!"
- Steven T.


"Just had a great session with Michael. As an avid sport boat fisherman I found my skills lacking from shore. He taught us what we needed to know to be successful. From catching bait to the science of when the best time to fish was. His science was spot on and the fish were biting the whole time. Caught a few and lost even more. Caught as many fish in one lesson as I've done alone the past 2 months. My 10yo said it was the best fishing trip he's ever had. Michael is friendly and a great teacher. My hyper kid was engaged the entire time."
- Alfredo D.


"Cool instructor. Coming from someone who doesn't know anything about fishing, I learned a lot from just one lesson. He's very knowledgeable and he'll answer all sorts of questions you may have. I like how his lesson was very thorough from start to finish. From just one lesson, I learned how to obtain and prepare the bait on my own, setup up my own fishing rod, and learned how to catch fishes using various methods and techniques. You can tell he cares a lot about his students. I'm someone who learns from trial and error and he was very patient with me. I'm definitely looking to get more experience because fishing is a very useful skill to have and I know that I have one of the best instructors around. I think everyone should learn about fishing especially with all the things going on around the world right now (but hey, that's just my opinion)."
- Nico A.
"I have always been curious about fishing and enjoyed it the few times I was able to tag along with someone else. But I wanted to learn more about fishing, rather than just have a rod handed to me. This is where Michael and LBC fishing lessons came into play. I did a search online and found his site to be the best that matched my needs as a TOTAL novice to fishing. I did lesson # 1, Back Bay Basics and I can honestly say that I feel I have learnt enough to venture out on my own. I would 100% recommend Michael. He is patient, thorough and knows a LOT, LOT, LOT about fishing. He brings over 40 years of experience. You stand to learn from him whether you are a total novice and beginner like me, or someone who has experience.
In the 4 hours, I learnt how to catch and use live bait, I learnt how to set up two different types of rigs (Carolina and Fish finder), learnt how to tie 3 different types of knots (uni, clinch/fisherman's and improved clinch), solunar theory of catching fish, how to cast, how to hold the fishing rod and so much more! All of this resulted in me catching 2 spotted sea bass!
If you are interested in learning how to fish, developing a new hobby or hone existing skills - learn from a pro - take classes with Michael and LBC fishing lessons. It will be so worth it. Thank you Michael, I'll be back!"
- Winsome V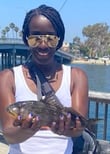 "My experience with Mike was awesome. He was patient and thorough with the lesson. Teaching everything from knots to survival theories and scientific theories on how to catch fish. If you're a beginner and want to get started fishing he's the man to go too. Money well spent."
- Eric G.


ARE YOU READY TO MASTER FISHING?